Before you can start operating your business, you need to get a Certificate of Registration (COR) from BIR. But before you can get a COR from BIR, you need to secure a Certificate of Business Name Registration from DTI first.
This is part 3 of The Ultimate Guide to Starting a Business in the Philippines series.
---
Table of Contents:
---
Business Name Registration System
DTI has made it easy for aspiring business owners to register their business names online. You can head out to the Business Name Registration System (BNRS) online and accomplish the business name registration without even visiting any of their physical offices.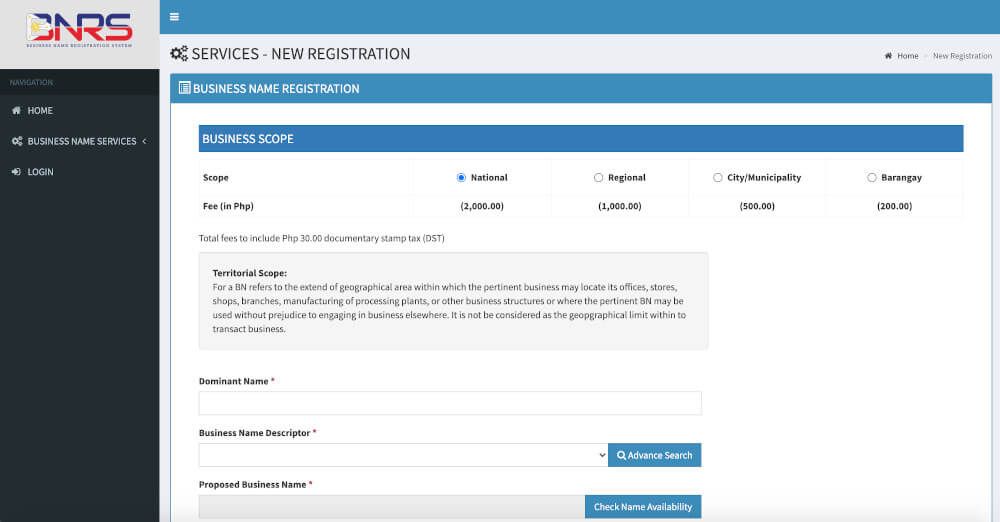 Business Name Registration System (BNRS) website from DTI
---
Scope of Business
You will be given four (4) choices for the scope of your business. This means the coverage of your operations. The fee for business name registration will depend on your choice for this field.
Barangay (₱200): This is appropriate for micro businesses such as sari-sari store, market stalls, repair services

Municipality (₱500): If you offer services or products that are limited to your city or municipality. This applies to businesses such as non-franchised restaurants and delivering goods within your city

Regional (₱1,000): If your business is offering services or products for your region only e.g. utilities in Calabarzon or services within the Ilocos region

National (₱2,000): If you have franchised your business or you have offices nationwide. If you offer online services or plan to expand your offices nationwide, this would be the best option.
---
Dominant Name
The Dominant Name is the primary name of your business. It is the main identifier of your business that is unique and will most likely be your brand. For example: Bytes
---
Business Name Descriptor
The Business Name Descriptor depends on the type of services you provide or the industry of your business. You can type a keyword on the search and the system will auto-suggest the descriptors. You can also do an advance search to narrow down the available descriptors based on your industry from the PSIC. For example: Information Technology Solutions
---
Proposed Business Name
The Proposed Business Name is the combination of the Dominant Name and the Business Name Descriptor. This is the official business name you will use to register your business in BIR and when you provide official receipts. From all our examples above, it will be Bytes Information Technology Solutions
---
Payment for Registration
In addition to the payment for your scope, you also have to pay an additional 50php for the documentary stamp. You can pay the fee via GCash or any Bancnet partner banks. After doing this you will be able to download and print the certificate of business name registration.
Here's what it should look like when you're done: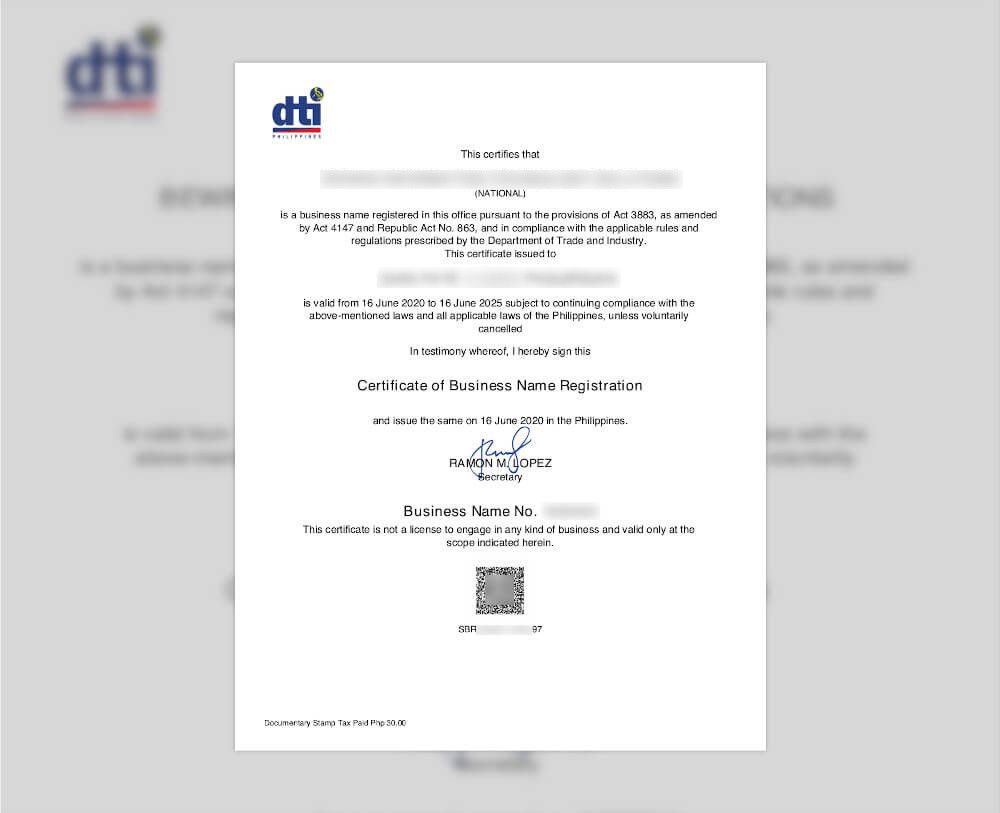 Actual Certificate of Business Name Registration from DTI
The validity of a Certificate of Business Name Registration from DTI is 5 years, then you have to register your business name again.
---
TAKE NOTE! After registering your business name with DTI, you have to get a certification of registration from BIR within one month or this will incur a penalty for every month that it is still unregistered in BIR.
---
Next up:
---
Credits: Illustration by Natasha Remarchuk from Icons8